Guns
Industrial Duty High Pressure Trigger Guns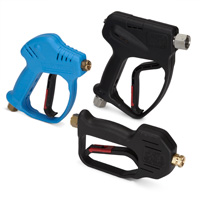 A high-pressure gun controls the flow of liquid from pump to nozzle. Squeezing the trigger permits liquid to flow through the gun, and releasing trigger shuts off the flow. Ergonomic construction with smooth trigger action is designed to reduce operator fatigue.
A variety of guns are available:
Shut-off
Shut-off with weep
Front load
Pressure compensating
Horizontal
Dump
Product Range:
Up to 53 GPM, up to 15000 PSI
Typical Usage:
Used on portable pressure washers, prep units for car washes, or any type of pressure washing units.
Materials:
Brass or stainless steel internal bodies, stainless steel seat and ball, nylon blend body and triggers.
Brass

| Model | Max Flow | Max Pressure | Type | Inlet/Discharge Ports |
| --- | --- | --- | --- | --- |
| 33425 | 8.00 GPM / 30.00 LPM | 2900 PSI / 200 BAR | Front Load Shut-Off | 3/8" BSP(F) / 1/4" NPT(F) |
| 76165 | 8.00 GPM / 30.00 LPM | 3650 PSI / 250 BAR | Shut-Off | 3/8" NPT(F) / 1/4" NPT(F) |
| 76168 | 8.00 GPM / 30.00 LPM | 3650 PSI / 250 BAR | Weep | 3/8" NPT(F) / 1/4" NPT(F) |
| 31260 | 8.00 GPM / 30.00 LPM | 5100 PSI / 350 BAR | Shut-Off | 3/8" NPT(F) / 1/4" NPT(F) |
| 32300 | 10.00 GPM / 38.00 LPM | 3000 PSI / 207 BAR | Dump w/15" Lance | 3/8" NPT(F) / 1/8" NPT(F) |
| 32301 | 10.00 GPM / 38.00 LPM | 3000 PSI / 207 BAR | Dump w/39" Lance | 3/8" NPT(F) / 1/8" NPT(F) |
| 31137 | 10.00 GPM / 40.00 LPM | 4500 PSI / 310 BAR | Horizontal Shut-Off | 3/8" NPT(F) / 1/4" NPT(F) |
| 35150 | 10.50 GPM / 40.00 LPM | 4500 PSI / 310 BAR | Shut-Off | 3/8" NPT(F) / 1/4" NPT(F) |
| 35151 | 10.50 GPM / 40.00 LPM | 4500 PSI / 310 BAR | Weep | 3/8" NPT(F) / 1/4" NPT(F) |
| 36140 | 10.50 GPM / 40.00 LPM | 5000 PSI / 345 BAR | Shut-Off | 3/8" NPT(F) / 1/4" NPT(F) |
| 36141 | 10.50 GPM / 40.00 LPM | 5000 PSI / 345 BAR | Weep | 3/8" NPT(F) / 1/4" NPT(F) |
| 31265 | 13.00 GPM / 49.00 LPM | 3650 PSI / 252 BAR | Shut-Off | 3/8" NPT(F) / 1/4" NPT(F) |
| 39410 | 21.00 GPM / 80.00 LPM | 7250 PSI / 500 BAR | Pressure-Compensating | 1/2" BSP(F) / 1/2" BSP(F) |
| 39411 | 21.00 GPM / 80.00 LPM | 7250 PSI / 500 BAR | Pressure-Compensating w/24" Lance | 1/2" BSP(F) / 1/4" NPT(F) |
| 39412 | 21.00 GPM / 80.00 LPM | 7250 PSI / 500 BAR | Pressure-Compensating w/40" Lance | 1/2" BSP(F) / 1/4" NPT(F) |
| 39422 | 21.00 GPM / 80.00 LPM | 7250 PSI / 500 BAR | Pressure-Compensating w/58" Lance | 1/2" BSP(F) / 1/4" NPT(F) |
| 32183 | 31.70 GPM / 120.00 LPM | 4060 PSI / 280 BAR | | 1/2" NPT(F) / 1/2" NPT(F) |
| 39415 | 32.00 GPM / 121.00 LPM | 1750 PSI / 120 BAR | Shut-Off | 1/2" BSP(F) / 1/2" BSP(F) |
| 39420 | 53.00 GPM / 200.00 LPM | 2900 PSI / 200 BAR | Pressure-Compensating | 3/4" BSP(F) / 1/2" BSP(F) |
304 Stainless Steel

| Model | Max Flow | Max Pressure | Type | Inlet/Discharge Ports |
| --- | --- | --- | --- | --- |
| 36126 | 10.50 GPM / 40.00 LPM | 4500 PSI / 310 BAR | Shut-Off | 3/8" NPT(F) / 1/4" NPT(F) |
| 33600 | 10.50 GPM / 40.00 LPM | 5800 PSI / 400 BAR | Shut-Off | 3/8" NPT(F) / 1/4" NPT(F) |
| 992641 | 10.50 GPM / 40.00 LPM | 14500 PSI / 1000 BAR | Pressure-Compensating | 3/8" NPT(F) / 3/8" NPT(F) |