Service Tools
Cat Pumps Service Tools Provide Ease of Service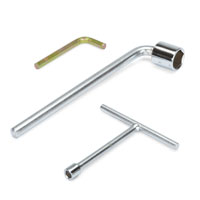 Wrenches
Simplifies servicing the crankcase, plunger rod or manifold.
T-Wrenches used for servicing crankcase or plunger.
L-Wrenches used for servicing valves.
Allen wrenches used for serving SF, SP, SPX, CP, DX, DNX series manifolds.
Pliers
Quick valve and snap ring removal/installation.
Reverse pliers used for easy valve seat removal.
Snap ring pliers used for Inlet Pressure Stabilizers assemblies.
Oil Gauge Removal Tool
Quick and easy replacement of crankcase oil gauge.
Required for replacement of oil gauge.
Seal Case Removal Tools
Simplifies seal replacement for various plunger pumps.
Available as 1/2" socket or T-wrench.
Piston Pump Tools
These specialty installation tools minimize risk of damage to cup/seal during replacement.
Used for piston pumps only.
Crankcase Oil Seal Kit
This specialty oil seal tool kit will assist in replacement of the 60 frame crankcase oil seals.
Remove and re-install crankcase oil seal from wet-end.
Minimize risk of damage to plunger/piston rod surfaces.
Used for plunger or piston pumps