Relief Valves
Industrial Duty Relief & Pop-Off Valves for Reliable Secondary Pressure Relief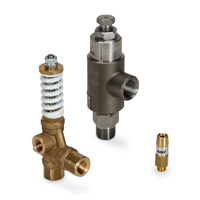 Relief valves can be used as a primary pressure control device, or as a secondary (safety) pressure relief. Many systems also use two relief valves with one set as the primary pressure control and the other set as a secondary relief.
When used as a primary pressure control device, the relief valve is used to set and maintain consistent system pressure in applications where flow and pressure demands are continuous or in applications where demand changes; when using multiple trigger guns, a downstream solenoid (gate) valve is closed, or a nozzle is clogged. When system pressure is achieved, excess flow is by-passed back to the pump inlet, to a tank, or to drain.
When configured as a secondary pressure control device, the relief valve provides pressure relief if the primary pressure control valve malfunctions. The secondary relief valve will open to relieve system pressure protecting the pump and system from damage caused by over-pressurization. A secondary relief valve can save costly pump and system damage, and more importantly, it's an added safety feature to protect those working around the equipment.
Product Range:
0 to 320 GPM, 0 to 10,000 PSI
Typical Usage:
Used for single pump, multiple pumps, nozzle and gun applications.
Materials:
Available in brass, 304 and 316 stainless steel
Elastomers:
Medium nitrile buna (NBR), fluorocarbon (FPM), ethylene proplylene diene monomer (EPDM), and more.
Brass

| Model | Min Flow | Max Flow | Min Pressure | Max Pressure | Inlet/Discharge Ports | Bypass Ports |
| --- | --- | --- | --- | --- | --- | --- |
| 7190 | 0.00 GPM / 0.00 LPM | 6.50 GPM / 25.00 LPM | 400 PSI / 28 BAR | 5000 PSI / 345 BAR | 3/8" BSP(F) / 3/8" BSP(F) | 3/8" BSP(F) |
| 7693.100 | 0.00 GPM / 0.00 LPM | 10.50 GPM / 40.00 LPM | 230 PSI / 16 BAR | 2300 PSI / 158 BAR | 3/8" NPT(F) / 3/8" NPT(F) | 3/8" NPT(F) |
| 7694.100 | 0.00 GPM / 0.00 LPM | 10.50 GPM / 40.00 LPM | 400 PSI / 28 BAR | 4050 PSI / 280 BAR | 3/8" NPT(F) / 3/8" NPT(F) | 3/8" NPT(F) |
| 7630.100 | 0.00 GPM / 0.00 LPM | 10.50 GPM / 40.00 LPM | 400 PSI / 28 BAR | 5100 PSI / 350 BAR | 3/8" NPT(M) / 3/8" BSP(F) | 1/2" NPT(F) |
| 7537.100 | 0.00 GPM / 0.00 LPM | 21.00 GPM / 80.00 LPM | 230 PSI / 16 BAR | 2600 PSI / 179 BAR | 1/2" NPT(F) / 1/2" NPT(F) | 1/2" NPT(F) |
| 7542.100 | 0.00 GPM / 0.00 LPM | 21.00 GPM / 80.00 LPM | 800 PSI / 55 BAR | 4000 PSI / 275 BAR | 1/2" NPT(F) / 1/2" NPT(F) | 1/2" NPT(F) |
| 7196 | 0.00 GPM / 0.00 LPM | 21.00 GPM / 80.00 LPM | 100 PSI / 7 BAR | 7250 PSI / 500 BAR | 1/2" BSP(F) / 3/8" BSP(F) | 3/8" BSP(F) |
| 7590.100 | 0.00 GPM / 0.00 LPM | 52.00 GPM / 200.00 LPM | 400 PSI / 28 BAR | 2175 PSI / 150 BAR | 1" NPT(F) / 1" NPT(F) | 1" NPT(F) |
| 7595 | 1.00 GPM / 3.80 LPM | 53.00 GPM / 200.00 LPM | 260 PSI / 18 BAR | 2600 PSI / 180 BAR | 3/4" NPT(F) / 1/2" NPT(F) | 1/2" NPT(F) |
316 Stainless Steel

| Model | Min Flow | Max Flow | Min Pressure | Max Pressure | Inlet/Discharge Ports | Bypass Ports |
| --- | --- | --- | --- | --- | --- | --- |
| 7034 | 0.00 GPM / 0.00 LPM | 21.00 GPM / 80.00 LPM | 400 PSI / 28 BAR | 2200 PSI / 155 BAR | 1/2" NPT(F) / 1/2" NPT(F) | 1/2" NPT(F) |
| 7036 | 0.00 GPM / 0.00 LPM | 21.00 GPM / 80.00 LPM | 800 PSI / 55 BAR | 4000 PSI / 275 BAR | 1/2" NPT(F) / 1/2" NPT(F) | 1/2" NPT(F) |
| 7037 | 0.00 GPM / 0.00 LPM | 21.00 GPM / 80.00 LPM | 3000 PSI / 207 BAR | 5700 PSI / 400 BAR | 1/2" NPT(F) / 1/2" NPT(F) | 1/2" NPT(F) |
| 890718 | 10.00 GPM / 38.00 LPM | 50.00 GPM / 189.00 LPM | 1000 PSI / 69 BAR | 8000 PSI / 550 BAR | 2" NPT(M) / 2" NPT(F) | 2" NPT(F) |
| 890709 | 20.00 GPM / 76.00 LPM | 60.00 GPM / 227.00 LPM | 1500 PSI / 103 BAR | 4000 PSI / 275 BAR | 2" NPT(F) / 2" NPT(F) | 2" NPT(M) |
| 890731 | 15.00 GPM / 56.00 LPM | 75.00 GPM / 284.00 LPM | 100 PSI / 7 BAR | 400 PSI / 28 BAR | 2" NPT(F) / 2" NPT(F) | 2" NPT(M) |
| 890715 | 0.00 GPM / 0.00 LPM | 100.00 GPM / 378.00 LPM | 1000 PSI / 69 BAR | 8000 PSI / 550 BAR | 2" NPT(M) / 2" NPT(F) | 2" NPT(F) |
| 890703 | 0.00 GPM / 0.00 LPM | 135.00 GPM / 511.00 LPM | 400 PSI / 28 BAR | 1500 PSI / 103 BAR | 2" NPT(M) / 2" NPT(F) | 2" NPT(F) |
| 890700 | 30.00 GPM / 114.00 LPM | 180.00 GPM / 680.00 LPM | 1000 PSI / 70 BAR | 3000 PSI / 207 BAR | 2" NPT(F) / 2" NPT(F) | 2" NPT(M) |
| 890702 | 25.00 GPM / 95.00 LPM | 210.00 GPM / 795.00 LPM | 500 PSI / 35 BAR | 2000 PSI / 138 BAR | 2" NPT(F) / 2" NPT(F) | 2" NPT(M) |
| 890713 | 0.00 GPM / 0.00 LPM | 210.00 GPM / 795.00 LPM | 800 PSI / 55 BAR | 4000 PSI / 27 BAR | 2" NPT(M) / 2" NPT(F) | 2" NPT(F) |
| 890706 | 15.00 GPM / 57.00 LPM | 260.00 GPM / 984.00 LPM | 250 PSI / 17 BAR | 1000 PSI / 69 BAR | 2" NPT(F) / 2" NPT(F) | 2" NPT(M) |
| 890704 | 45.00 GPM / 170.00 LPM | 320.00 GPM / 1211.00 LPM | 500 PSI / 35 BAR | 2000 PSI / 138 BAR | 2" NPT(F) / 2" NPT(F) | 2" NPT(M) |
304 Stainless Steel

| Model | Min Flow | Max Flow | Min Pressure | Max Pressure | Inlet/Discharge Ports | Bypass Ports |
| --- | --- | --- | --- | --- | --- | --- |
| 7531.100 | 0.00 GPM / 0.00 LPM | 21.00 GPM / 80.00 LPM | 400 PSI / 28 BAR | 2200 PSI / 155 BAR | 1/2" NPT(F) / 1/2" NPT(F) | 1/2" NPT(F) |
| 7533.100 | 0.00 GPM / 0.00 LPM | 21.00 GPM / 80.00 LPM | 800 PSI / 55 BAR | 4000 PSI / 275 BAR | 1/2" NPT(F) / 1/2" NPT(F) | 1/2" NPT(F) |
| 7536.100 | 0.00 GPM / 0.00 LPM | 21.00 GPM / 80.00 LPM | 3000 PSI / 207 BAR | 6000 PSI / 414 BAR | 1/2" NPT(F) / 1/2" NPT(F) | 1/2" NPT(F) |