Inlet Filters
Industrial Duty Filters Provide System Protection from Particles and Debris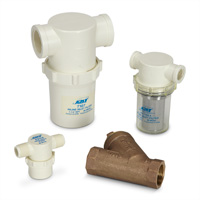 An Inlet Filter strains standard water particles and debris before fluid enters a pump. Filters are installed prior to the pump in a pressurized feed or gravity feed system. Selection of a filter should be based on a pump's flow rate and inlet port size.
The filter design allows liquid to flow inside to outside causing sediment to collect inside the removable stainless steel filter screen. A removable bowl permits easy cleaning without removing filter or plumbing.
Product Range:
6 - 100 GPM (suction flow), 10 to 150 GPM (pressurized flow)
Typical Usage:
Use on any pressurized or gravity feed system.
Materials:
White nylon body or clear nylon body, polypropylene body, reinforced composite body, stainless steel mesh screen.
| Model | Max Flow | Max Pressure | Inlet/Discharge Ports |
| --- | --- | --- | --- |
| 32738 | 8.00 GPM / 30.00 LPM | 145 PSI / 10 BAR | 1/2" BSP(F) / 1/2" BSP(M) |
| 32748 | 8.00 GPM / 30.00 LPM | 145 PSI / 10 BAR | 1/2" BSP(F) / 1/2" BSP(F) |
| 7104 | 10.00 GPM / 38.00 LPM | 150 PSI / 10 BAR | 1/2" NPT(F) / 1/2" NPT(F) |
| 7104.4 | 10.00 GPM / 38.00 LPM | 150 PSI / 10 BAR | 1/2" NPT(F) / 1/2" NPT(F) |
| 7203 | 10.00 GPM / 38.00 LPM | 150 PSI / 10 BAR | 1/2" NPT(M) / 1/2" NPT(M) |
| 7203.3 | 10.00 GPM / 38.00 LPM | 150 PSI / 10 BAR | 1/2" NPT(M) / 1/2" NPT(M) |
| 7204 | 10.00 GPM / 38.00 LPM | 150 PSI / 10 BAR | 1/2" NPT(F) / 1/2" NPT(F) |
| 7204.4 | 10.00 GPM / 38.00 LPM | 150 PSI / 10 BAR | 1/2" NPT(F) / 1/2" NPT(F) |
| 7105 | 20.00 GPM / 76.00 LPM | 150 PSI / 10 BAR | 3/4" NPT(F) / 3/4" NPT(F) |
| 7105.5 | 20.00 GPM / 76.00 LPM | 150 PSI / 10 BAR | 3/4" NPT(F) / 3/4" NPT(F) |
| 7106 | 25.00 GPM / 95.00 LPM | 150 PSI / 10 BAR | 1" NPT(F) / 1" NPT(F) |
| 7106.6 | 25.00 GPM / 95.00 LPM | 150 PSI / 10 BAR | 1" NPT(F) / 1" NPT(F) |
| 7107 | 50.00 GPM / 189.00 LPM | 150 PSI / 10 BAR | 1 1/4" NPT(F) / 1 1/4" NPT(F) |
| 7107.7 | 50.00 GPM / 189.00 LPM | 150 PSI / 10 BAR | 1 1/4" NPT(F) / 1 1/4" NPT(F) |
| 7108 | 75.00 GPM / 284.00 LPM | 150 PSI / 10 BAR | 1 1/2" NPT(F) / 1 1/2" NPT(F) |
| 7108.8 | 75.00 GPM / 284.00 LPM | 150 PSI / 10 BAR | 1 1/2" NPT(F) / 1 1/2" NPT(F) |
| 7109 | 150.00 GPM / 567.00 LPM | 150 PSI / 10 BAR | 2" NPT(F) / 2" NPT(F) |