High-Temperature Pumps
Industrial Duty High-Temperature and Run Dry Pumps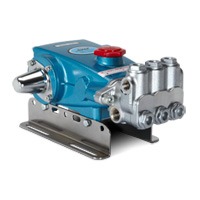 High-temperature liquids place extraordinary demands on system components, especially the pump. Premature pump failure can lead to production downtime, added maintenance costs, damaged final product, and increased personnel hazards. Avoid potential problems by counting on Cat Pumps' field-proven technology for your high-temperature applications.
Cat Pumps high-temperature pumps can handle liquids up to 180°F/82°C or 190°F/88°C and perform in intermittent run-dry conditions. Flow range of 0.5 to 20 GPM/1.9 to 75.7 LPM and a pressure range of 100 to 3500 PSI/6.9 to 241.5 BAR. Available in brass, nickel aluminum bronze, and stainless steel to cover various applications. For pump options outside of what is listed on the table below, please contact us at techsupport@catpumps.com.
For unmatched reliability, choose Cat Pumps high-temperature pumps.