Unloaders
Industrial Duty Pressure Regulating Unloaders for Trigger Gun Applications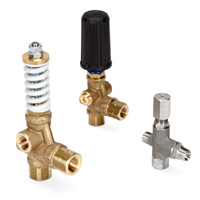 A pressure-sensitive unloader is used as a primary pressure control device to set and maintain consistent system pressure while providing an energy and system savings feature that allows the pump to run at low pressure when the downstream flow shuts off. An unloader contains a check valve that traps pressure between the closed downstream device (shut-off gun) and the unloader, causing an internal piston to open, allowing the pump to unload at low pressure. When the shut-off gun is opened back up, the system will return to operating pressure.
Regulators and unloaders each have their benefits. Review our Regulator vs. Unloader Video to learn the differences between the two valve types and which is suitable for your system.
A wide range of unloaders is available from Cat Pumps and feature color-coded springs for easy identification. Convert one model to another model simply by substituting the spring.
Product Range:
0.5 to 120 GPM, 100 to 7,250 PSI
Typical usage:
Used for single pump, single or multiple-gun, and nozzle applications.
Materials:
Available in brass, 304, and 316 stainless steel
Elastomers are available in medium nitrile buna (NBR), fluorocarbon (FPM), ethylene propylene diene monomer (EPDM), and more.
Quick Links
Materials:
Product Literature
Brass

| Model | Min Flow | Max Flow | Min Pressure | Max Pressure | Inlet/Discharge Ports | Bypass Ports |
| --- | --- | --- | --- | --- | --- | --- |
| 7600S | 2.00 GPM / 8.00 LPM | 5.00 GPM / 19.00 LPM | 700 PSI / 49 BAR | 3500 PSI / 245 BAR | 3/8" NPT(M) / 3/8" NPT(M) | 3/8" NPT(F) |
| 7860 | 3.00 GPM / 7.60 LPM | 5.00 GPM / 19.00 LPM | 700 PSI / 50 BAR | 4000 PSI / 275 BAR | 1/2" NPT(F) / 3/8" NPT(F) | Built-in Channel |
| 7500S | 0.50 GPM / 1.90 LPM | 6.00 GPM / 22.70 LPM | 100 PSI / 7 BAR | 2000 PSI / 138 BAR | 3/8" NPT(M) / 3/8" NPT(M) | 3/8" NPT(F) |
| 7500XS | 0.50 GPM / 1.90 LPM | 6.00 GPM / 23.00 LPM | 100 PSI / 7 BAR | 2000 PSI / 138 BAR | 3/8" NPT(M) / 3/8" NPT(M) | 1/4" Barb |
| 7850 | 0.50 GPM / 1.90 LPM | 6.00 GPM / 23.00 LPM | 100 PSI / 7 BAR | 4000 PSI / 275 BAR | 1/2" NPT(F) / 3/8" NPT(F) | Built-in Channel |
| 7580 | 0.50 GPM / 1.90 LPM | 6.50 GPM / 25.00 LPM | 400 PSI / 28 BAR | 1000 PSI / 69 BAR | 3/8" NPT(M) / 3/8" NPT(M) | 3/8" NPT(F) |
| 7581 | 0.50 GPM / 1.90 LPM | 6.60 GPM / 25.00 LPM | 232 PSI / 16 BAR | 2320 PSI / 160 BAR | 3/8" NPT(M) / 3/8" NPT(M) | 3/8" NPT(F) |
| 7582 | 0.50 GPM / 1.90 LPM | 8.00 GPM / 30.00 LPM | 100 PSI / 7 BAR | 1000 PSI / 69 BAR | 3/8" NPT(M) / 3/8" NPT(M) | 3/8" NPT(F) |
| 7583 | 0.50 GPM / 1.90 LPM | 8.00 GPM / 30.00 LPM | 250 PSI / 18 BAR | 2000 PSI / 138 BAR | 3/8" NPT(M) / 3/8" NPT(M) | 3/8" NPT(F) |
| 7620 | 0.50 GPM / 1.90 LPM | 8.00 GPM / 30.00 LPM | 319 PSI / 22 BAR | 3190 PSI / 220 BAR | 3/8" BSPP(M) / 3/8" BSPP(M) | 3/8" BSPP(F) |
| 7693 | 2.50 GPM / 9.50 LPM | 10.50 GPM / 40.00 LPM | 232 PSI / 16 BAR | 2320 PSI / 160 BAR | 3/8" NPT(F) / 3/8" NPT(F) | 3/8" NPT(F) |
| 7694 | 2.50 GPM / 9.50 LPM | 10.50 GPM / 40.00 LPM | 406 PSI / 28 BAR | 4060 PSI / 280 BAR | 3/8" NPT(F) / 3/8" NPT(F) | 3/8" NPT(F) |
| 7630 | 2.00 GPM / 7.60 LPM | 10.50 GPM / 40.00 LPM | 507 PSI / 35 BAR | 5076 PSI / 350 BAR | 3/8" BSPP(M) / 3/8" BSPP(F) | 1/2" BSPP(F) |
| 7537 | 1.00 GPM / 3.80 LPM | 21.00 GPM / 80.00 LPM | 406 PSI / 28 BAR | 2320 PSI / 160 BAR | 1/2" NPT(F) / 1/2" NPT(F) | 1/2" NPT(F) |
| 7542 | 1.00 GPM / 3.80 LPM | 21.00 GPM / 80.00 LPM | 406 PSI / 28 BAR | 4060 PSI / 280 BAR | 1/2" NPT(F) / 1/2" NPT(F) | 1/2" NPT(F) |
| 7590 | 10.00 GPM / 38.00 LPM | 52.80 GPM / 200.00 LPM | 218 PSI / 15 BAR | 2175 PSI / 150 BAR | 1" NPT(F) / 1" NPT(F) | 1" NPT(F) |
| 7592 | 10.00 GPM / 38.00 LPM | 52.80 GPM / 200.00 LPM | 450 PSI / 31 BAR | 2500 PSI / 172 BAR | 1" NPT(F) / 1" NPT(F) | 1" NPT(F) |
| 7593 | 10.00 GPM / 38.00 LPM | 52.80 GPM / 200.00 LPM | 406 PSI / 28 BAR | 4060 PSI / 280 BAR | 1" BSPP(F) / 1" BSPP(F) | 1" BSPP(F) |
| 9950 | 50.00 GPM / 189.00 LPM | 120.00 GPM / 450.00 LPM | 290 PSI / 20 BAR | 2900 PSI / 200 BAR | 1 1/4" BSPP(F) / 1 1/4" BSPP(F) | 1 1/2" BSPP(F) |
316 Stainless Steel

| Model | Min Flow | Max Flow | Min Pressure | Max Pressure | Inlet/Discharge Ports | Bypass Ports |
| --- | --- | --- | --- | --- | --- | --- |
| 7501 | 0.50 GPM / 1.90 LPM | 6.00 GPM / 23.00 LPM | 100 PSI / 7 BAR | 2000 PSI / 138 BAR | 3/8" NPT(M) / 3/8" NPT(M) | 3/8" NPT(F) |
304 Stainless Steel

| Model | Min Flow | Max Flow | Min Pressure | Max Pressure | Inlet/Discharge Ports | Bypass Ports |
| --- | --- | --- | --- | --- | --- | --- |
| 9970 | 0.00 GPM / 0.00 LPM | 15.90 GPM / 60.00 LPM | 1160 PSI / 80 BAR | 11600 PSI / 800 BAR | 1/2" BSPP(F) / 1/2" BSPP(F) | 1/2" BSPP(F) |
| 7531 | 1.00 GPM / 3.80 LPM | 21.00 GPM / 80.00 LPM | 218 PSI / 15 BAR | 2175 PSI / 150 BAR | 1/2" NPT(F) / 1/2" NPT(F) | 1/2" NPT(F) |
| 7533 | 1.00 GPM / 3.80 LPM | 21.00 GPM / 80.00 LPM | 406 PSI / 28 BAR | 4060 PSI / 280 BAR | 1/2" NPT(F) / 1/2" NPT(F) | 1/2" NPT(F) |
| 7536 | 1.00 GPM / 3.80 LPM | 21.00 GPM / 80.00 LPM | 580 PSI / 40 BAR | 5800 PSI / 400 BAR | 1/2" NPT(F) / 1/2" NPT(F) | 1/2" NPT(F) |