Pressure Regulators
Industrial Duty Pressure Regulators for Accurate and Consistent Pressure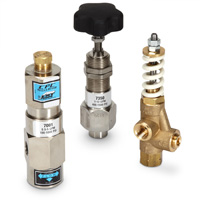 Pressure regulators are used as a primary pressure control device to set and maintain consistent system pressure in applications where flow and pressure demands are continuous or in applications where demand changes; when using multiple trigger guns, a downstream solenoid (gate) valve is closed, or a nozzle is clogged. When system pressure is achieved, excess flow is by-passed back to the pump inlet, to a tank, or to drain.
Regulators and unloaders each have their own benefits. Review our Regulator vs. Unloader Video to learn the differences between the two valve types, and which is right for your system.
A wide range of pressure regulators is available from Cat Pumps including the 7000 series regulators. The 7000 series regulators are exclusive to Cat Pumps and have advances in regulator technology not available anywhere else. Those advances make for a smoother, longer-lasting, more precise, and safer regulator.
Product Range:
0.5 to 100 GPM, 100 to 10,000 PSI
Typical Usage :
Used for single pump, multiple pumps, nozzle, and gun applications.
Materials:
Available in brass, nickel-plated steel, 304 and 316 stainless steel.
Elastomers are available in medium nitrile buna (NBR), fluorocarbon (FPM), ethylene propylene diene monomer (EPDM), perfluoroelastomer (IPFE), and more.
Brass

| Model | Min Flow | Max Flow | Min Pressure | Max Pressure | Inlet/Discharge Ports | Bypass Ports |
| --- | --- | --- | --- | --- | --- | --- |
| 7084 | 1.00 GPM / 3.80 LPM | 3.50 GPM / 13.00 LPM | 100 PSI / 7 BAR | 600 PSI / 41 BAR | 1/4" BSP(M) / 1/8" BSP(F) | 1/8" BSP(F) |
| 7084C | 1.00 GPM / 3.80 LPM | 3.50 GPM / 13.00 LPM | 100 PSI / 7 BAR | 600 PSI / 41 BAR | 1/4" BSP(M) / 1/8" BSP(F) | 1/8" BSP(F) |
| 7085 | 1.00 GPM / 3.80 LPM | 3.50 GPM / 13.00 LPM | 205 PSI / 14 BAR | 2300 PSI / 158 BAR | 1/4" BSP(M) / 1/8" BSP(F) | 1/8" BSP(F) |
| 7085C | 1.00 GPM / 3.80 LPM | 3.50 GPM / 13.00 LPM | 205 PSI / 14 BAR | 2300 PSI / 158 BAR | 1/4" BSP(M) / 1/8" BSP(F) | 1/8" BSP(F) |
| 7561 | 0.00 GPM / 0.00 LPM | 4.00 GPM / 15.10 LPM | 100 PSI / 7 BAR | 1250 PSI / 86 BAR | 1/4" NPT(M) / 1/4" NPT(F) | 1/4" NPT(F) |
| 7189 | 0.50 GPM / 1.90 LPM | 6.00 GPM / 25.00 LPM | 100 PSI / 7 BAR | 650 PSI / 45 BAR | 3/8" NPT(F) / 3/8" NPT(F) | 3/8" NPT(F) |
| 7080 | 2.80 GPM / 9.50 LPM | 7.80 GPM / 30.00 LPM | 150 PSI / 10 BAR | 1450 PSI / 100 BAR | 3/8" NPT(F) / 3/8" NPT(F) | 3/8" NPT(F) |
| 7082 | 2.80 GPM / 9.50 LPM | 7.80 GPM / 30.00 LPM | 850 PSI / 59 BAR | 3575 PSI / 246 BAR | 3/8" NPT(F) / 3/8" NPT(F) | 3/8" NPT(F) |
Steel

| Model | Min Flow | Max Flow | Min Pressure | Max Pressure | Inlet/Discharge Ports | Bypass Ports |
| --- | --- | --- | --- | --- | --- | --- |
| 7001 | 0.50 GPM / 1.90 LPM | 5.00 GPM / 19.00 LPM | 100 PSI / 7 BAR | 1000 PSI / 69 BAR | 3/8" NPT(F) / 3/8" NPT(F) | 1/2" NPT(F) |
| 7002 | 0.50 GPM / 1.90 LPM | 5.00 GPM / 19.00 LPM | 500 PSI / 35 BAR | 2000 PSI / 138 BAR | 3/8" NPT(F) / 3/8" NPT(F) | 1/2" NPT(F) |
| 7003 | 0.50 GPM / 1.90 LPM | 5.00 GPM / 19.00 LPM | 1500 PSI / 103 BAR | 3000 PSI / 207 BAR | 3/8" NPT(F) / 3/8" NPT(F) | 1/2" NPT(F) |
| 7011 | 1.00 GPM / 3.80 LPM | 10.00 GPM / 38.00 LPM | 100 PSI / 7 BAR | 1000 PSI / 69 BAR | 1/2" NPT(F) / 1/2" NPT(F) | 3/4" NPT(F) |
| 7012 | 1.00 GPM / 3.80 LPM | 10.00 GPM / 38.00 LPM | 500 PSI / 35 BAR | 2000 PSI / 138 BAR | 1/2" NPT(F) / 1/2" NPT(F) | 3/4" NPT(F) |
| 7013 | 1.00 GPM / 3.80 LPM | 10.00 GPM / 35.90 LPM | 1500 PSI / 103 BAR | 3000 PSI / 207 BAR | 1/2" NPT(F) / 1/2" NPT(F) | 3/4" NPT(F) |
| 7014 | 1.00 GPM / 3.80 LPM | 10.00 GPM / 38.00 LPM | 2000 PSI / 138 BAR | 4000 PSI / 275 BAR | 1/2" NPT(F) / 1/2" NPT(F) | 3/4" NPT(F) |
| 7021 | 2.50 GPM / 9.50 LPM | 25.00 GPM / 95.00 LPM | 100 PSI / 7 BAR | 1000 PSI / 69 BAR | 3/4" NPT(F) / 3/4" NPT(F) | 1" NPT(F) |
| 7022 | 2.50 GPM / 9.50 LPM | 25.00 GPM / 95.00 LPM | 500 PSI / 35 BAR | 2000 PSI / 138 BAR | 3/4" NPT(F) / 3/4" NPT(F) | 1" NPT(F) |
| 7023 | 2.50 GPM / 8.60 LPM | 25.00 GPM / 95.00 LPM | 1500 PSI / 103 BAR | 3000 PSI / 207 BAR | 3/4" NPT(F) / 3/4" NPT(F) | 1" NPT(F) |
| 7024 | 2.50 GPM / 9.50 LPM | 25.00 GPM / 95.00 LPM | 2000 PSI / 136 BAR | 4000 PSI / 275 BAR | 3/4" NPT(F) / 3/4" NPT(F) | 1" NPT(F) |
| 7031 | 3.50 GPM / 13.20 LPM | 35.00 GPM / 132.00 LPM | 250 PSI / 15 BAR | 1000 PSI / 69 BAR | 3/4" NPT(F) / 3/4" NPT(F) | 1" NPT(F) |
| 7032 | 3.50 GPM / 13.20 LPM | 35.00 GPM / 132.00 LPM | 1000 PSI / 69 BAR | 2000 PSI / 138 BAR | 3/4" NPT(F) / 3/4" NPT(F) | 1" NPT(F) |
| 7033 | 3.50 GPM / 13.20 LPM | 35.00 GPM / 130.50 LPM | 1500 PSI / 103 BAR | 3000 PSI / 207 BAR | 3/4" NPT(F) / 3/4" NPT(F) | 1" NPT(F) |
316 Stainless Steel

| Model | Min Flow | Max Flow | Min Pressure | Max Pressure | Inlet/Discharge Ports | Bypass Ports |
| --- | --- | --- | --- | --- | --- | --- |
| 7001.100 | 0.50 GPM / 1.90 LPM | 5.00 GPM / 19.00 LPM | 100 PSI / 7 BAR | 1000 PSI / 69 BAR | 3/8" NPT(F) / 3/8" NPT(F) | 1/2" NPT(F) |
| 7002.100 | 0.50 GPM / 1.90 LPM | 5.00 GPM / 1.90 LPM | 500 PSI / 34 BAR | 2000 PSI / 138 BAR | 3/8" NPT(F) / 3/8" NPT(F) | 1/2" NPT(F) |
| 7003.100 | 0.50 GPM / 1.90 LPM | 5.00 GPM / 19.00 LPM | 1500 PSI / 103 BAR | 3000 PSI / 207 BAR | 3/8" NPT(F) / 3/8" NPT(F) | 1/2" NPT(F) |
| 7011.100 | 1.00 GPM / 3.80 LPM | 10.00 GPM / 38.00 LPM | 100 PSI / 7 BAR | 1000 PSI / 69 BAR | 1/2" NPT(F) / 1/2" NPT(F) | 3/4" NPT(F) |
| 7012.100 | 1.00 GPM / 3.80 LPM | 10.00 GPM / 38.00 LPM | 500 PSI / 35 BAR | 2000 PSI / 138 BAR | 1/2" NPT(F) / 1/2" NPT(F) | 3/4" NPT(F) |
| 7013.100 | 1.00 GPM / 3.80 LPM | 10.00 GPM / 3.80 LPM | 1500 PSI / 105 BAR | 3000 PSI / 207 BAR | 1/2" NPT(F) / 1/2" NPT(F) | 3/4" NPT(F) |
| 7014.100 | 1.00 GPM / 3.80 LPM | 10.00 GPM / 38.00 LPM | 2000 PSI / 138 BAR | 4000 PSI / 275 BAR | 1/2" NPT(F) / 1/2" NPT(F) | 3/4" NPT(F) |
| 7720 | 0.50 GPM / 1.90 LPM | 10.00 GPM / 38.00 LPM | 2000 PSI / 138 BAR | 10000 PSI / 689 BAR | 1/4" NPT(F) / 1/4" NPT(F) | 3/8" NPT(F) |
| 7350 | 1.00 GPM / 3.80 LPM | 12.00 GPM / 45.00 LPM | 400 PSI / 25 BAR | 1500 PSI / 103 BAR | 1/4" NPT(F) / 3/8" NPT(F) | 3/8" NPT(F) |
| 7366 | 1.00 GPM / 3.80 LPM | 12.00 GPM / 45.00 LPM | 3000 PSI / 207 BAR | 6000 PSI / 414 BAR | 1/2" NPT(F) / 3/4" NPT(F) | 3/4" NPT(F) |
| 7021.100 | 2.50 GPM / 9.50 LPM | 25.00 GPM / 95.00 LPM | 100 PSI / 7 BAR | 1000 PSI / 69 BAR | 3/4" NPT(F) / 3/4" NPT(F) | 1" NPT(F) |
| 7022.100 | 2.50 GPM / 9.50 LPM | 25.00 GPM / 95.00 LPM | 500 PSI / 35 BAR | 2000 PSI / 138 BAR | 3/4" NPT(F) / 3/4" NPT(F) | 1" NPT(F) |
| 7023.100 | 2.50 GPM / 9.50 LPM | 25.00 GPM / 95.00 LPM | 1500 PSI / 103 BAR | 3000 PSI / 207 BAR | 3/4" NPT(F) / 3/4" NPT(F) | 1" NPT(F) |
| 7024.100 | 2.50 GPM / 9.50 LPM | 25.00 GPM / 95.00 LPM | 2000 PSI / 138 BAR | 4000 PSI / 275 BAR | 3/4" NPT(F) / 3/4" NPT(F) | 1" NPT(F) |
| 7031.100 | 3.50 GPM / 13.20 LPM | 35.00 GPM / 132.00 LPM | 250 PSI / 18 BAR | 1000 PSI / 69 BAR | 3/4" NPT(F) / 3/4" NPT(F) | 1" NPT(F) |
| 7032.100 | 3.50 GPM / 13.20 LPM | 35.00 GPM / 132.00 LPM | 1000 PSI / 69 BAR | 2000 PSI / 138 BAR | 3/4" NPT(F) / 3/4" NPT(F) | 1" NPT(F) |
| 7033.100 | 15.00 GPM / 13.20 LPM | 35.00 GPM / 132.00 LPM | 1500 PSI / 103 BAR | 3000 PSI / 207 BAR | 3/4" NPT(F) / 3/4" NPT(F) | 1" NPT(F) |
| 7361 | 10.00 GPM / 38.00 LPM | 60.00 GPM / 228.00 LPM | 400 PSI / 25 BAR | 1000 PSI / 69 BAR | 1" NPT(F) / 1 1/4" NPT(F) | 1 1/4" NPT(F) |
| 7363 | 10.00 GPM / 38.00 LPM | 60.00 GPM / 228.00 LPM | 600 PSI / 40 BAR | 1800 PSI / 125 BAR | 1" NPT(F) / 1 1/4" NPT(F) | 1 1/4" NPT(F) |
| 7375 | 10.00 GPM / 38.00 LPM | 75.00 GPM / 284.00 LPM | 100 PSI / 7 BAR | 1000 PSI / 69 BAR | 1 1/4" NPT(F) / 1 1/4" NPT(F) | 1 1/2" NPT(F) |
| 7376 | 10.00 GPM / 38.00 LPM | 75.00 GPM / 284.00 LPM | 500 PSI / 35 BAR | 2000 PSI / 138 BAR | 1 1/4" NPT(F) / 1 1/4" NPT(F) | 1 1/2" NPT(F) |
| 7410 | 10.00 GPM / 38.00 LPM | 100.00 GPM / 378.00 LPM | 100 PSI / 7 BAR | 1500 PSI / 103 BAR | 1 1/2" NPT(F) / 2 1/2" NPT(F) | 2" NPT(F) |