Lances
Industrial Duty Lances and Wands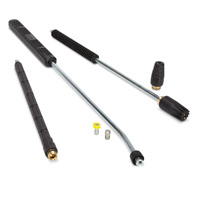 A high-pressure Lance is attached to a standard gun handle to provide a safe working distance between operator and spray surface. Nozzles are attached to the opposite end of lances and are sized to provide a certain pressure depending on the flow. Nozzle sizes are viewed as nozzle numbers and are equivalent to the nozzle capacity in GPM at 4000 PSI.
A variety of lance styles, lengths and materials are available, each with a ventilated insulator for operator comfort and safety. Choose from a number of nozzle types, including:
Change over
Adjustable
Rotating
Turbo
Thread-in
Product Range:
Up to 21 GPM, up to 7250 PSI (lances), up to 38 GPM, up to 5100 PSI (nozzles)
Typical Usage:
Use on portable pressure washers or any type of pressure washing unit.
Materials:
Zinc-plated, stainless steel, brass bodies, ceramic insert/nozzle.
Steel

| Model | Max Flow | Max Pressure | Length | Inlet/Discharge Ports |
| --- | --- | --- | --- | --- |
| 33220 | 8.00 GPM / 30.00 LPM | 2900 PSI / 200 BAR | 12 inches / 305 mm | 1/4" NPT(M) / 1/4" NPT(F) |
| 33221 | 8.00 GPM / 30.00 LPM | 2900 PSI / 200 BAR | 20 inches / 508 mm | 1/4" NPT(M) / 1/4" NPT(F) |
| 32264 | 10.50 GPM / 40.00 LPM | 3650 PSI / 252 BAR | 24 inches / 600 mm | 1/4" BSP(M) / 1/4" BSP(M) |
| 31017 | 10.50 GPM / 40.00 LPM | 3650 PSI / 252 BAR | 27 inches / 900 mm | 1/4" BSP(M) / 1/4" NPT(F) |
| 33201 | 10.50 GPM / 40.00 LPM | 3650 PSI / 252 BAR | 35 inches / 890 mm | 1/4" BSP(F) / 1/4" NPT(F) |
| 32031 | 10.50 GPM / 40.00 LPM | 3650 PSI / 252 BAR | 36 inches / 900 mm | 1/4" BSP(M) / 1/4" NPT(F) |
| 32036 | 10.50 GPM / 40.00 LPM | 3650 PSI / 252 BAR | 36 inches / 900 mm | 1/4" NPT(M) / 1/4" NPT(F) |
| 36267 | 10.50 GPM / 40.00 LPM | 3650 PSI / 252 BAR | 36 inches / 900 mm | 1/4" BSP(M) / 1/4" BSP(M) |
| 32032 | 10.50 GPM / 40.00 LPM | 3650 PSI / 252 BAR | 48 inches / 1200 mm | 1/4" BSP(M) / 1/4" NPT(F) |
| 32268 | 10.50 GPM / 40.00 LPM | 3650 PSI / 252 BAR | 48 inches / 1200 mm | 1/4" BSP(M) / 1/4" BSP(M) |
| 32033 | 10.50 GPM / 40.00 LPM | 3650 PSI / 252 BAR | 60 inches / 1500 mm | 1/4" BSP(M) / 1/4" NPT(F) |
| 36269 | 10.50 GPM / 40.00 LPM | 3650 PSI / 252 BAR | 60 inches / 1500 mm | 1/4" BSP(M) / 1/4" BSP(M) |
| 32034 | 10.50 GPM / 40.00 LPM | 3650 PSI / 252 BAR | 67 inches / 1700 mm | 1/4" BSP(M) / 1/4" NPT(F) |
| 32035 | 10.50 GPM / 40.00 LPM | 3650 PSI / 252 BAR | 79 inches / 2000 mm | 1/4" BSP(M) / 1/4" NPT(F) |
304 Stainless Steel

| Model | Max Flow | Max Pressure | Length | Inlet/Discharge Ports |
| --- | --- | --- | --- | --- |
| 31219 | 8.00 GPM / 30.00 LPM | 5100 PSI / 350 BAR | 32 inches / 812 mm | 1/4" NPT(M) / 1/4" NPT(F) |
| 31220 | 8.00 GPM / 30.00 LPM | 5100 PSI / 350 BAR | 42 inches / 1065 mm | 1/4" NPT(M) / 1/4" NPT(F) |
| 32798 | 10.00 GPM / 40.00 LPM | 3000 PSI / 207 BAR | 15 inches / 381 mm | 1/8" NPT(M) / 1/8" NPT(F) |
| 32042 | 10.50 GPM / 40.00 LPM | 3650 PSI / 252 BAR | 36 inches / 900 mm | 1/4" NPT(M) / 1/4" NPT(F) |
| 33200 | 10.50 GPM / 40.00 LPM | 3650 PSI / 252 BAR | 43 inches / 1090 mm | 1/4" BSP(F) / 1/4" NPT(F) |
| 32437 | 21.00 GPM / 80.00 LPM | 7250 PSI / 500 BAR | 16 inches / 406 mm | 1/2" BSP(M) / 1/4" NPT(F) |