Thermal Valves
Industrial Duty Thermal Valves for Heat Build-Up Protection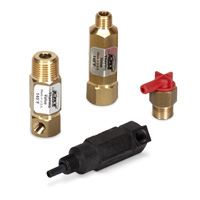 A Thermal Valve is used to eliminate heat build-up in a closed loop by-pass system when liquid is being returned to the pump inlet. Thermal Valves can only be installed when there is a pressurized pump inlet. During recirculation of by-pass liquid, the thermal valve will detect temperature rises in the liquid. If the set temperature is reached, a bleed port dumps a portion of the over-heated fluid.
Light-weight and easy to install, three different inlet port sizes are available: 1/4", 3/8" and 1/2" NPTM.
Product Range:
Up to 25 GPM, up to 125 PSI, temperatures 130°F, 145°F, 165°F, 180°F and 190°F 
Typical Usage:
Used on systems that can be run in full by-pass for an extended period of time, and have a pressurized inlet. Most commonly found on portable high-pressure wash systems.
Materials:
Brass or reinforced composite.
RTP

| Model | Max Flow | Max Pressure | Port Size In | Maximum Temperature |
| --- | --- | --- | --- | --- |
| 7138 | 25.00 GPM / 95.00 LPM | 125 PSI / 9 BAR | 1/4" NPT(M) | 130°F |
| 7135 | 25.00 GPM / 95.00 LPM | 125 PSI / 9 BAR | 1/4" NPT(M) | 145°F |
| 7136 | 25.00 GPM / 95.00 LPM | 125 PSI / 9 BAR | 3/8" NPT(M) | 145°F |
| 7137 | 25.00 GPM / 95.00 LPM | 125 PSI / 9 BAR | 1/2" NPT(M) | 145°F |
| 7128 | 25.00 GPM / 95.00 LPM | 125 PSI / 9 BAR | 1/4" NPT(M) | 165°F |
| 7129 | 25.00 GPM / 95.00 LPM | 125 PSI / 9 BAR | 3/8" NPT(M) | 165°F |
| 7130 | 25.00 GPM / 95.00 LPM | 125 PSI / 9 BAR | 1/2" NPT(M) | 165°F |
Brass

| Model | Max Flow | Max Pressure | Port Size In | Maximum Temperature |
| --- | --- | --- | --- | --- |
| 7146 | 25.00 GPM / 95.00 LPM | 125 PSI / 9 BAR | 1/4" NPT(M) | 130°F |
| 7116 | 25.00 GPM / 95.00 LPM | 145 PSI / 10 BAR | 3/8" BSP(M) | 145°F |
| 7140 | 25.00 GPM / 95.00 LPM | 125 PSI / 9 BAR | 1/4" NPT(M) | 145°F |
| 7141 | 25.00 GPM / 95.00 LPM | 125 PSI / 9 BAR | 3/8" NPT(M) | 145°F |
| 7142 | 25.00 GPM / 95.00 LPM | 125 PSI / 9 BAR | 1/2" NPT(M) | 145°F |
| 7143 | 25.00 GPM / 95.00 LPM | 125 PSI / 9 BAR | 1/4" NPT(M) | 165°F |
| 7144 | 25.00 GPM / 96.00 LPM | 125 PSI / 9 BAR | 3/8" NPT(M) | 165°F |
| 7145 | 25.00 GPM / 96.00 LPM | 125 PSI / 9 BAR | 1/2" NPT(M) | 165°F |
| 7170 | 25.00 GPM / 95.00 LPM | 125 PSI / 9 BAR | 1/4" NPT(M) | 180°F |
| 7171 | 25.00 GPM / 95.00 LPM | 125 PSI / 9 BAR | 3/8" NPT(M) | 180°F |
| 7172 | 25.00 GPM / 95.00 LPM | 125 PSI / 9 BAR | 1/2" NPT(M) | 180°F |
| 7175 | 25.00 GPM / 95.00 LPM | 125 PSI / 9 BAR | 1/4" NPT(M) | 190°F |
| 7176 | 25.00 GPM / 95.00 LPM | 125 PSI / 9 BAR | 3/8" NPT(M) | 190°F |
| 7177 | 25.00 GPM / 95.00 LPM | 125 PSI / 9 BAR | 1/2" NPT(M) | 190°F |