Nozzles
Industrial Duty Nozzles and Spray Tips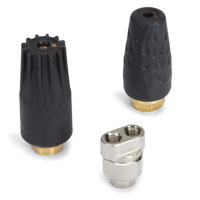 Nozzles are attached to the opposite end of lances and are sized to provide a certain pressure depending on the flow. Nozzle sizes are viewed as nozzle numbers and are equivalent to the nozzle capacity in GPM at 4000 PSI.
Choose from a number of nozzle types, including:
Change over
Adjustable
Rotating
Turbo
Thread-in
Product Range:
Up to 21 GPM, up to 7250 PSI (lances), up to 38 GPM, up to 5100 PSI (nozzles)
Typical Usage:
Use on portable pressure washers or any type of pressure washing unit.
Materials:
Zinc-plated, stainless steel, brass bodies, ceramic insert/nozzle.
Quick Links
Materials:
Product Literature
Brass

| Model | Type | Nozzle Size | Min Flow | Max Flow | Min Pressure | Max Pressure | Inet Port |
| --- | --- | --- | --- | --- | --- | --- | --- |
| 32149 | Change Over | | 0.00 GPM / 0.00 LPM | 7.00 GPM / 26.50 LPM | 0 PSI / 0 BAR | 2900 PSI / 200 BAR | 1/4" BSP(F) |
| Model | Type | Nozzle Size | Min Flow | Max Flow | Min Pressure | Max Pressure | Inet Port |
| --- | --- | --- | --- | --- | --- | --- | --- |
| 31943 | Misting | 0.2 | 0.02 GPM / 0.07 LPM | 0.03 GPM / 0.12 LPM | 507 PSI / 35 BAR | 1450 PSI / 100 BAR | 1/4" NPT(M) |
| 31944 | Misting | 0.3 | 0.04 GPM / 0.15 LPM | 0.07 GPM / 0.26 LPM | 507 PSI / 35 BAR | 1450 PSI / 100 BAR | 1/4" NPT(M) |
| 31945 | Misting | 0.4 | 0.07 GPM / 0.25 LPM | 0.12 GPM / 0.45 LPM | 507 PSI / 35 BAR | 1450 PSI / 100 BAR | 1/4" NPT(M) |
| 7616.20 | Rotating | 2.0 | 0.70 GPM / 2.60 LPM | 1.50 GPM / 5.70 LPM | 500 PSI / 35 BAR | 2300 PSI / 160 BAR | 1/4" NPT(F) |
| 7616.25 | Rotating | 2.5 | 0.90 GPM / 3.40 LPM | 1.90 GPM / 7.20 LPM | 500 PSI / 35 BAR | 2300 PSI / 160 BAR | 1/4" NPT(F) |
| 7616.30 | Rotating | 3.0 | 1.00 GPM / 3.80 LPM | 2.30 GPM / 8.70 LPM | 500 PSI / 35 BAR | 2300 PSI / 160 BAR | 1/4" NPT(F) |
| 7625.30 | Rotating | 3.0 | 1.60 GPM / 6.10 LPM | 2.90 GPM / 11.00 LPM | 1200 PSI / 83 BAR | 3650 PSI / 252 BAR | 1/4" BSP(F) |
| 7632.30 | Rotating | 3.0 | 2.40 GPM / 9.10 LPM | 3.40 GPM / 12.90 LPM | 2600 PSI / 180 BAR | 5100 PSI / 350 BAR | 1/4" BSP(F) |
| 7616.35 | Rotating | 3.5 | 1.20 GPM / 4.50 LPM | 2.70 GPM / 10.20 LPM | 500 PSI / 35 BAR | 2300 PSI / 160 BAR | 1/4" NPT(F) |
| 7625.35 | Rotating | 3.5 | 1.90 GPM / 7.20 LPM | 3.30 GPM / 12.50 LPM | 1200 PSI / 83 BAR | 3650 PSI / 252 BAR | 1/4" BSP(F) |
| 7632.35 | Rotating | 3.5 | 2.80 GPM / 10.60 LPM | 3.90 GPM / 14.80 LPM | 2600 PSI / 180 BAR | 5100 PSI / 350 BAR | 1/4" BSP(F) |
| 7616.40 | Rotating | 4.0 | 1.40 GPM / 5.30 LPM | 3.00 GPM / 11.40 LPM | 500 PSI / 35 BAR | 2300 PSI / 160 BAR | 1/4" NPT(F) |
| 7625.40 | Rotating | 4.0 | 2.20 GPM / 8.30 LPM | 3.80 GPM / 14.40 LPM | 1200 PSI / 83 BAR | 3650 PSI / 252 BAR | 1/4" BSP(F) |
| 7632.40 | Rotating | 4.0 | 3.20 GPM / 12.10 LPM | 4.50 GPM / 17.00 LPM | 2600 PSI / 180 BAR | 5100 PSI / 350 BAR | 1/4" BSP(F) |
| 7616.45 | Rotating | 4.5 | 1.50 GPM / 5.70 LPM | 3.40 GPM / 12.90 LPM | 500 PSI / 35 BAR | 2300 PSI / 160 BAR | 1/4" NPT(F) |
| 7625.45 | Rotating | 4.5 | 2.40 GPM / 9.10 LPM | 4.30 GPM / 16.30 LPM | 1200 PSI / 83 BAR | 3650 PSI / 252 BAR | 1/4" BSP(F) |
| 7632.45 | Rotating | 4.5 | 3.60 GPM / 13.60 LPM | 5.10 GPM / 19.30 LPM | 2600 PSI / 180 BAR | 5100 PSI / 350 BAR | 1/4" BSP(F) |
| 7616.50 | Rotating | 5.0 | 1.80 GPM / 6.80 LPM | 3.80 GPM / 14.40 LPM | 500 PSI / 35 BAR | 2300 PSI / 160 BAR | 1/4" NPT(F) |
| 7625.50 | Rotating | 5.0 | 2.80 GPM / 10.60 LPM | 4.80 GPM / 18.20 LPM | 1200 PSI / 83 BAR | 3650 PSI / 252 BAR | 1/4" BSP(F) |
| 7632.50 | Rotating | 5.0 | 4.00 GPM / 15.10 LPM | 5.60 GPM / 21.20 LPM | 2600 PSI / 180 BAR | 5100 PSI / 350 BAR | 1/4" BSP(F) |
| 7616.55 | Rotating | 5.5 | 1.90 GPM / 7.20 LPM | 4.20 GPM / 15.90 LPM | 500 PSI / 35 BAR | 2300 PSI / 160 BAR | 1/4" NPT(F) |
| 7625.55 | Rotating | 5.5 | 3.00 GPM / 11.40 LPM | 5.20 GPM / 19.70 LPM | 1200 PSI / 83 BAR | 3650 PSI / 252 BAR | 1/4" BSP(F) |
| 7632.55 | Rotating | 5.5 | 4.40 GPM / 16.70 LPM | 6.20 GPM / 23.50 LPM | 2600 PSI / 180 BAR | 5100 PSI / 350 BAR | 1/4" BSP(F) |
| 7625.60 | Rotating | 6.0 | 3.20 GPM / 12.10 LPM | 5.70 GPM / 21.60 LPM | 1200 PSI / 83 BAR | 3650 PSI / 252 BAR | 1/4" BSP(F) |
| 7632.60 | Rotating | 6.0 | 4.80 GPM / 18.20 LPM | 6.70 GPM / 25.40 LPM | 2600 PSI / 180 BAR | 5100 PSI / 350 BAR | 1/4" BSP(F) |
| 7616.65 | Rotating | 6.5 | 2.30 GPM / 8.80 LPM | 4.90 GPM / 18.50 LPM | 500 PSI / 35 BAR | 2300 PSI / 160 BAR | 1/4" NPT(F) |
| 7625.65 | Rotating | 6.5 | 3.60 GPM / 13.60 LPM | 6.20 GPM / 23.50 LPM | 1200 PSI / 83 BAR | 3650 PSI / 252 BAR | 1/4" BSP(F) |
| 7632.65 | Rotating | 6.5 | 5.20 GPM / 19.70 LPM | 7.30 GPM / 27.60 LPM | 2600 PSI / 180 BAR | 5100 PSI / 350 BAR | 1/4" BSP(F) |
| 7625.70 | Rotating | 7.0 | 3.80 GPM / 14.40 LPM | 6.70 GPM / 25.40 LPM | 1200 PSI / 83 BAR | 3650 PSI / 252 BAR | 1/4" BSP(F) |
| 7970 | Rotating | 7.0 | 3.50 GPM / 13.20 LPM | 6.60 GPM / 25.00 LPM | 1000 PSI / 69 BAR | 3650 PSI / 252 BAR | 1/4" BSP(F) |
| 7632.70 | Rotating | 7.0 | 5.60 GPM / 21.20 LPM | 7.90 GPM / 29.90 LPM | 2600 PSI / 180 BAR | 5100 PSI / 350 BAR | 1/4" BSP(F) |
| 7625.80 | Rotating | 8.0 | 4.40 GPM / 16.70 LPM | 7.70 GPM / 29.10 LPM | 1200 PSI / 83 BAR | 3650 PSI / 252 BAR | 1/4" BSP(F) |
| 7632.80 | Rotating | 8.0 | 7.00 GPM / 26.50 LPM | 9.10 GPM / 34.40 LPM | 2600 PSI / 180 BAR | 5100 PSI / 350 BAR | 1/4" BSP(F) |
| 7265.20 | Turbo | 2.0 | 1.10 GPM / 4.20 LPM | 1.70 GPM / 6.40 LPM | 1200 PSI / 83 BAR | 3000 PSI / 207 BAR | 1/4" BSP(F) |
| 7265.30 | Turbo | 3.0 | 1.60 GPM / 6.00 LPM | 2.60 GPM / 9.80 LPM | 1200 PSI / 83 BAR | 3000 PSI / 207 BAR | 1/4" BSP(F) |
| 7265.35 | Turbo | 3.5 | 1.90 GPM / 7.00 LPM | 3.00 GPM / 11.00 LPM | 1200 PSI / 83 BAR | 3000 PSI / 207 BAR | 1/4" BSP(F) |
| 7270.35 | Turbo | 3.5 | 2.50 GPM / 9.50 LPM | 3.90 GPM / 14.80 LPM | 2000 PSI / 138 BAR | 5000 PSI / 345 BAR | 1/4" BSP(F) |
| 7265.40 | Turbo | 4.0 | 2.20 GPM / 8.30 LPM | 3.50 GPM / 13.00 LPM | 1200 PSI / 83 BAR | 3000 PSI / 207 BAR | 1/4" BSP(F) |
| 7265.45 | Turbo | 4.5 | 2.40 GPM / 9.00 LPM | 3.90 GPM / 14.80 LPM | 1200 PSI / 83 BAR | 3000 PSI / 207 BAR | 1/4" BSP(F) |
| 7270.45 | Turbo | 4.5 | 3.00 GPM / 11.40 LPM | 5.00 GPM / 18.90 LPM | 2000 PSI / 138 BAR | 5000 PSI / 345 BAR | 1/4" BSP(F) |
| 7265.50 | Turbo | 5.0 | 2.80 GPM / 10.60 LPM | 4.40 GPM / 16.70 LPM | 1200 PSI / 83 BAR | 3000 PSI / 207 BAR | 1/4" BSP(F) |
| 7265.55 | Turbo | 5.5 | 3.00 GPM / 11.10 LPM | 4.80 GPM / 18.20 LPM | 1200 PSI / 83 BAR | 3000 PSI / 207 BAR | 1/4" BSP(F) |
| 7270.55 | Turbo | 5.5 | 3.80 GPM / 14.40 LPM | 6.20 GPM / 23.50 LPM | 2000 PSI / 138 BAR | 5000 PSI / 345 BAR | 1/4" BSP(F) |
| 7265.60 | Turbo | 6.0 | 3.20 GPM / 12.10 LPM | 5.20 GPM / 19.70 LPM | 1200 PSI / 83 BAR | 3000 PSI / 207 BAR | 1/4" BSP(F) |
| 7265.65 | Turbo | 6.5 | 3.60 GPM / 13.60 LPM | 5.70 GPM / 21.60 LPM | 1200 PSI / 83 BAR | 3000 PSI / 207 BAR | 1/4" BSP(F) |
| 7270.65 | Turbo | 6.5 | 4.60 GPM / 17.40 LPM | 7.30 GPM / 27.60 LPM | 2000 PSI / 138 BAR | 5000 PSI / 345 BAR | 1/4" BSP(F) |
| 7270.80 | Turbo | 8.0 | 5.60 GPM / 21.20 LPM | 8.90 GPM / 33.70 LPM | 2000 PSI / 138 BAR | 5000 PSI / 345 BAR | 1/4" BSP(F) |
| 7270.90 | Turbo | 9.0 | 6.40 GPM / 24.20 LPM | 10.00 GPM / 37.90 LPM | 2000 PSI / 138 BAR | 5000 PSI / 345 BAR | 1/4" BSP(F) |
| 7920 | Vari-Nozzle | 2.0 | 1.00 GPM / 3.80 LPM | 1.90 GPM / 7.20 LPM | 1000 PSI / 69 BAR | 3650 PSI / 252 BAR | 1/4" BSP(F) |
| 7930 | Vari-Nozzle | 3.0 | 1.50 GPM / 5.70 LPM | 2.90 GPM / 10.80 LPM | 1000 PSI / 69 BAR | 3650 PSI / 252 BAR | 1/4" BSP(F) |
| 7935 | Vari-Nozzle | 3.5 | 1.80 GPM / 6.60 LPM | 3.30 GPM / 12.60 LPM | 1000 PSI / 69 BAR | 3650 PSI / 252 BAR | 1/4" BSP(F) |
| 7940 | Vari-Nozzle | 4.0 | 2.00 GPM / 7.80 LPM | 3.80 GPM / 14.40 LPM | 1000 PSI / 69 BAR | 3650 PSI / 252 BAR | 1/4" BSP(F) |
| 7945 | Vari-Nozzle | 4.5 | 2.20 GPM / 8.30 LPM | 4.30 GPM / 16.30 LPM | 1000 PSI / 69 BAR | 3650 PSI / 252 BAR | 1/4" BSP(F) |
| 7950 | Vari-Nozzle | 5.0 | 2.50 GPM / 9.50 LPM | 4.70 GPM / 17.80 LPM | 1000 PSI / 69 BAR | 3650 PSI / 252 BAR | 1/4" BSP(F) |
| 7955 | Vari-Nozzle | 5.5 | 2.80 GPM / 10.60 LPM | 5.20 GPM / 19.70 LPM | 1000 PSI / 69 BAR | 3650 PSI / 252 BAR | 1/4" BSP(F) |
| 7960 | Vari-Nozzle | 6.0 | 3.00 GPM / 11.40 LPM | 5.60 GPM / 21.20 LPM | 1000 PSI / 69 BAR | 3650 PSI / 252 BAR | 1/4" BSP(F) |
304 Stainless Steel

| Model | Type | Nozzle Size | Min Flow | Max Flow | Min Pressure | Max Pressure | Inet Port |
| --- | --- | --- | --- | --- | --- | --- | --- |
| 7324 | Power-Chem | 4.0 | 2.00 GPM / 7.60 LPM | 4.50 GPM / 17.10 LPM | 1000 PSI / 69 BAR | 5000 PSI / 345 BAR | 1/4" QD(M) |
| 7325 | Power-Chem | 5.0 | 2.50 GPM / 9.50 LPM | 5.60 GPM / 21.30 LPM | 1000 PSI / 69 BAR | 5000 PSI / 345 BAR | 1/4" QD(M) |
| 7326 | Power-Chem | 6.0 | 3.00 GPM / 11.40 LPM | 6.70 GPM / 25.50 LPM | 1000 PSI / 69 BAR | 5000 PSI / 345 BAR | 1/4" QD(M) |