Industrial Duty Pumps & Accessories for Decontamination & Sanitation Equipment Applications
The best safeguard against the spread of viruses and bacteria is a proper cleaning and sanitizing procedure. An initial cleaning process removes dirt, grime, and oils. After this first step is completed, the same equipment can be used to disinfect, sanitize, or sterilize the surfaces using specialized chemicals to breakdown the pathogens. Some surfaces can be disinfected or sanitized with a mist spray of a sanitizing agent, while others may require the mixture to sit for longer periods in order to fully breakdown the microorganisms.

Cat Pumps offers a diverse pump product line ideal for a wide variety of cleaning and sanitizing applications. From small electric direct-drive pumps to an engine or hydraulic-powered mobile equipment, to large central cleaning systems, Cat Pumps has a high-pressure solution to fit the need.
In order to combat SARS-CoV-2, the virus that causes COVID-19, the CDC has established "List-N," a directory of disinfectants that have shown effectiveness against human coronavirus. These include:
Sodium Hypochlorite
Quarternary Ammonia
Peroxyacetic Acid
Isopropanol
Hydrogen Peroxide

Cat Pumps can be configured to pump many of the common chemicals used to slow the spread of infectious diseases. For specific chemical compatible configurations please contact us at techsupport@catpumps.com.
Quick Links
Product Literature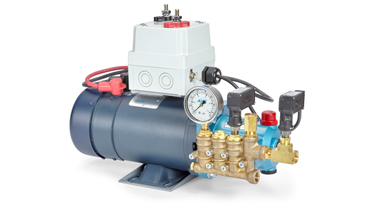 12 VDC Driven
These models run off of a vehicle 12 VDC power supply, making them easily configurable to fit into many vehicles including busses, sanitation trucks, maintenance vehicles, UTV's, ambulances, fire trucks, and many more. Flows up to 5 gpm, and pressures up to 1000 psi make them suitble for many cleaning and sanitizing applications.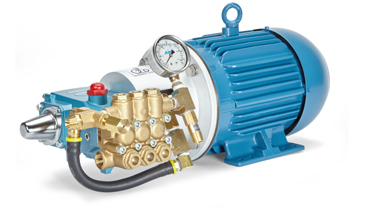 Electric Direct Drive
Available for flows 0.3 gpm to 10 gpm, with a pressure range of 100 to 5000 psi, configurations fit standard NEMA and IEC Motors. From low-flow sanitizing mist, to high-pressure surface cleaners, Cat Pumps direct-drive systems have you covered.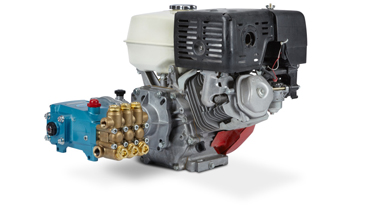 Engine Driven
For engine applications, we offer a variety of direct, belt or gearbox-driven models. Flow range of 1 gpm to 30 gpm and pressure range of 100 to 10,000 psi, Cat Pumps has a pump model that will work for almost any engine-driven cleaning or sanitizing application.
Chemical Injection Pulse Pump
Pulse Pumps offer an economical alternative to running harsh chemicals through the pump, allowing the use of standard materials and elastomers. Pulse Pumps eliminate the need for premixing chemical solutions by injecting the chemical down stream from the pump. Pulse Pumps are available for a wide variety of pump models and drive types and can easily be retrofitted in the field to your existing Cat Pump. The 6340/6341 can be used for pressures to 2,000 psi or the 6350/6351 can be used with pressures up to 3000 psi.
Product Range:
1 - 12 GPH, 100 - 3000 PSI
Typical Usage:
Used for harsh chemical application.
Materials:
Stainless steel internal components, High-temperature seals, Fluorocarbon O-rings.
With field-proven dependability in applications around the globe, Cat Pumps provides the best high-pressure pumps and systems for decontamination and sanitation equipment.