Pulsator Assemblies
Pulsator Assemblies Quickly Convert Pressure Washer Equipment to Water Jetting Equipment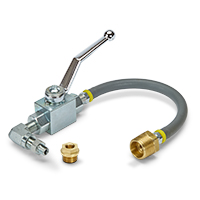 A pulsator assembly can easily be added to many standard high-pressure pumps to create a jetting or pulsating effect in the downstream flow. This jetting action can aid in cleaning and sewer jetting applications by knocking debris and sludge loose from the surface, allowing it to be quickly flushed away.
The design of a triplex pump naturally creates a minor pulsation caused by the reciprocating plungers. When actuated, the pulsator assembly bypasses the water flowing through one of the inlet valves back to the pump inlet. The pump will then run on two of the three pumping chambers, increasing the pulsation.
The easy-to-use ball valve design provides a reliable, heavy-duty solution for converting a pump to use with jetting applications. An open chamber design eliminates the traditional dry pumping chamber of other jetter designs and the possibility of dead-heading the pump, prolonging the life of the pump seals, reducing maintenance and downtime on jetter pumps.