Pressure Washer Resource Center
Pump Literature
Gathering required literature for servicing your pump is a simple process. Use the Search function in the top right corner of our website to search for your pump model. Click on the Related Literature button to bring up pump Data Sheets, Service Manuals and any related Technical Bulletins. Follow along with the tabs below.
Data Sheets
The pump Data Sheet has all relevant pump specifications, parts list, exploded view, repair kits, optional component listings, and dimensional information. Follow along with the tabs below.
The Parts List will list Item Numbers that correspond to the exploded view, Part Numbers, item Materials of construction, a Description of the part, and the Quantity required per pump.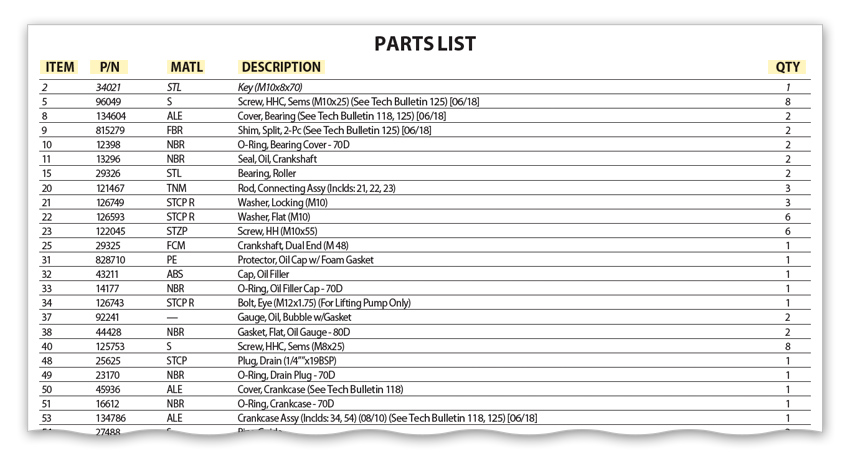 Repair Kits
#300 Seal Kit, optional material configurations listed below
#310 Valve Kit, optional material configurations listed below
There will be a Material Codes Key underneath the Repair Kits. The codes listed will correspond to the Materials of construction on the Parts List. Any relevant Technical Bulletins for th pump model will be listed in this section as well.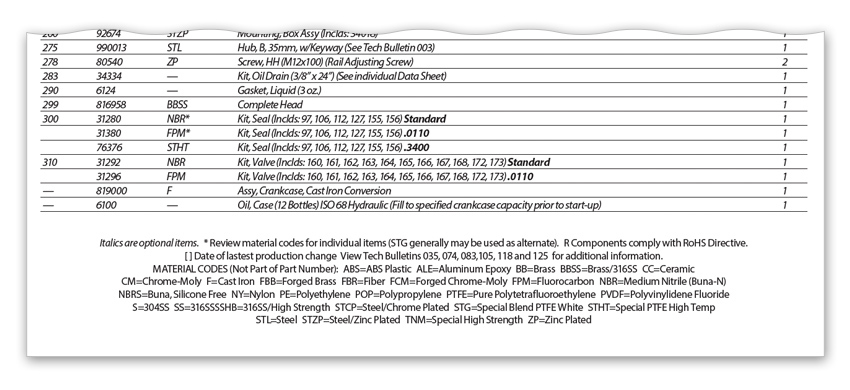 The Data Sheet will show Pump Dimensions on the last page.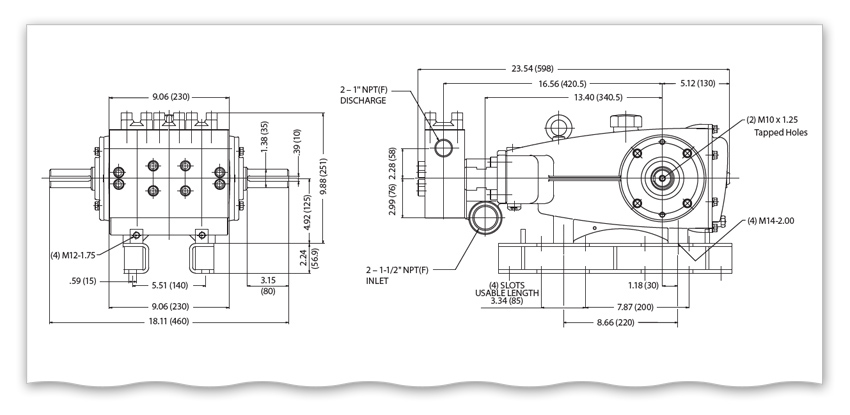 Service Manuals
Service Manuals are designed to offer assistance when periodic maintenance is necessary. These are "must read and retain" documents that will help you achieve optimum performance for your Cat Pump. Each manual includes a step-by-step disassembly and re-assembly of the pump with additional information on:
• Important Safety Instructions
• Tools used for manifold removal and seal and valve servicing
• Preventive Maintenance
• Diagnosis and Maintenance

To find your service manual, search by your Cat Pump model number using the Search function in the top, right corner of this page, or using our Pump Literature Search.
If you are unsure of your model number, click here for instructions on how to identify your pump model.
Service Videos
Service Videos are a great tool to help you with common service repairs of seal and valve kits. We have videos available for many models available by clicking the Service Videos link near the right of this page.
If you are still having trouble with servicing or system diagnosis, visit the FAQ, or Troubleshooting sections. For additional help, contact our technical sales team M-F 8:00 am-5:00 pm at 763-780-5440 or email at techsupport@catpumps.com
Additional Repair Tips
Seal Direction
One common inquiry among customers servicing pumps is the direction of the seal when installing. As you can see in the image, both high and low-pressure seals have a groove on one side of the seal. The side with the groove should be installed towards the area that will "see" or be exposed to water.
Oil Cap
When installing the oil cap, use caution not to overtighten as the cap is constructed of plastic. You should never use special tools as this will increase the likelihood of over-tightening.
Find a Service Center
If you are looking for a Pressure Washer Service Center, you may contact your original equipment manufacturer or one of our authorized Pressure Washer Service Centers. To find the service center nearest you, use our locator tool by clicking here.